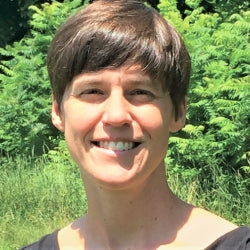 Dr. Alexis Chesney
MS, ND, LAC
Meet The Speaker
Alexis Chesney MS, ND, LAC is a naturopathic physician, acupuncturist, author and educator specializing in Lyme and tick-borne disease. Dr. Chesney enjoys getting to the root cause of complex chronic illness and partnering with patients to find wellness and balance in their lives. She practices at Sojourns Community Health Clinic, in Westminster, Vermont and also has a private practice. She is a member of the AANP, Vermont Association of Naturopathic Physicians (VANP), the International Lyme and Associated Diseases Society (ILADS) and a founding full member of International Society for Environmentally Acquired Illness (ISEAI). Dr. Chesney served on the Board of Directors and is currently the Naturopathic Medicine Committee Chair for the ILADS. She serves as a preceptor for the ILADEF Physician Training Program. She is the author of Preventing Lyme and Other Tick-Borne Diseases released through Storey Publishing, and speaks on tick-borne diseases at conferences and in the media.
Common Myths in TBD, ISDA vs ILADS (1 CEU)
Preventing Lyme and TBD & Navigating Two Standards of Care
The Centers for Disease Control and Prevention (CDC) estimates that approximately 476,000 people are diagnosed with Lyme disease annually. Without an effective vaccine, accurate testing, or simple effective treatment, we must stop the spread of Lyme and tick-borne diseases (TBD) through prevention. In this presentation, Dr. Chesney will review tick identification. She will provide strategies for preventing tick bites and discuss the six steps to take after a tick bite. Called the "great imitator," Lyme disease can be difficult to diagnose and treat. Navigating through two standards of care make it even more challenging. The two standards of medical guidelines (IDSA/CDC and ILADS) regarding testing and treatment for the blacklegged tick-borne diseases like Lyme disease will be discussed.
Key Learnings
Describe ways in which you can prevent tick bites through personal behavior changes and actions taken to address the landscape-Review the steps to take after getting bitten by a tick
Describe IDSA/CDC guidelines in testing for Lyme and tick-borne disease
Describe ILADS guidelines in testing for Lyme and tick-borne disease
Explain IDSA/CDC guidelines in the treatment of Lyme and tick-borne disease-Explain ILADS guidelines in treatment of Lyme and tick-borne disease