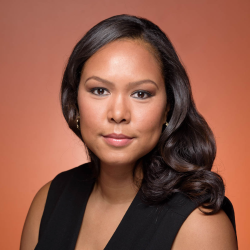 Dr. Jaquel Patterson
ND, MBA, IFMCP
Meet The Speaker
Dr. Jaquel Patterson is a nationally recognized naturopathic physician, success coach, 3x Amazon best-selling author (including Women and Lyme and Long COVID and Beyond), and Forbes contributor. She owns a successful multidisciplinary medical practice, Fairfield Family Health, in Connecticut. She has over 15 years of clinical experience with a focus on Lyme disease, autoimmune conditions, integrative psychiatry, and environmental medicine. She is a sought-after speaker and published in places like USA Today, New York Magazine, Forbes, CBS, Fox, NBC and ABC. She is a frequent lecturer on Lyme disease for practitioners, most recently for Rupa University on Lyme Disease completing two, 6-week bootcamps. She is the Past President for the American Association of Naturopathic Physicians and currently serves on the board of the American Academy of Environmental Medicine. She is a certified practitioner through the Institute for Functional Medicine (IFM) and completed a fellowship in functional medicine for psychiatry and ADD/ADHD. In addition to her naturopathic medical degree, she has her MBA in Healthcare Management from Quinnipiac University and has her undergraduate degree from Cornell University.
Lyme Disease and Autoimmunity
This presentation will discuss at length Lyme disease and other tick-borne infections, full foundational background, clinical presentation and laboratory diagnosis. Often times criteria for diagnosis is unclear for many and how to read and interpret laboratory testing. Also, understanding of how to incorporate diagnosis amongst other leading infections present, e.g. EBV, Mycoplasma or an autoimmune condition and the significance of its impact on health.

The presentation will additionally include the relation to infections like Lyme disease and possible initiating autoimmunity like multiple sclerosis and how to appropriately consider all infections in treatment. Autoimmunity will be discussed as it pertains to molecular mimicry, bystander activation and epitope spreading. It will discuss role of infections like Lyme, EBV, and Strep can initiate autoimmunity in future. In fact, those with autoimmune conditions are likely to have at least two infections. The presentation will demonstrate how improving the infections causes or may cause improvements in autoimmunity serological testing and clinical symptom picture.

The presentation will also cover persistent, chronic Lyme disease and dysregulation in immune function. It will discuss what is persistent chronic lyme disease, impact of antibiotic treatment long term and biologics. Case studies will be provided and reviewed for Lyme disease, other tick-borne infections like Bartonella and Babesia including cases of patients who have Lyme disease plus an autoimmune condition.

There will be review of appropriate testing for assessment and evaluation purposes and use of integrative medicine via herbal and nutritional supplementation to support Lyme disease with additional context including co-infections and demographics. There will also be a review of conventional medicine approaches to care and long-term care.
Schedule of Lecture
10 minutes: Lyme disease and the overlap with autoimmunity
10 minutes: Overlapping infections with Lyme disease and autoimmune conditions
10 minutes: Immune dysregulation: molecular mimicry, bystander activation, epitope spreading
15 minutes: Integrative Treatment approaches
15 minutes: Case Studies