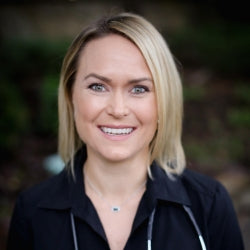 Meet The Speaker
Dr. Kim Bruno, DC, CCN has been passionate about integrative medicine and achieving optimum health from a young age. She believes that proper nutrient density to each cell, removal of external interference to the body and thus optimally functioning biochemical pathways is the foundation of health and the key to attaining a well-balanced system. Because of Dr. Bruno's passion for preventative and functional medicine she pursued and received her Doctorate in Chiropractic Medicine from National University of Health Sciences in Chicago where she concurrently attained her Certified Clinical Nutritionist (CCN) degree.

She continues her post-graduate education constantly through the Institute for Functional Medicine, Clinical Nutrition Certification Board and Lyme Master Courses. Dr. Bruno has a dedicated her career to working to find root cause to patients' medical issues as well as promoting a prevention model of health care for all of her patients. Through her 14-year career, she has owned a private practice and also worked hand-in-hand with a variety of health care providers and in multidisciplinary practices.

Most recently she was the functional medical director at the largest immunology clinic in Colorado, and specialized in complex care of patients with multiple chronic immune conditions and strived to develop immune rehabilitation plans for optimal health.

Dr. Bruno is a Colorado native, she attended Colorado State University where she received her bachelors of science in Health and Exercise Science with an emphasis in Health Promotion. She enjoys all mountain activities such hiking, skiing and paddle boarding. And finds most joy in spending time outside in the beautiful nature of Colorado with her husband and two young daughters.