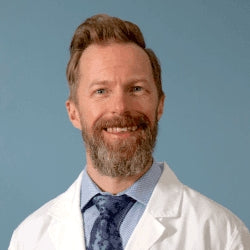 Meet The Speaker
Dr. Tom Moorcroft, DO is a global leader in solving complex medical mysteries. He completed his undergraduate studies at the University of Vermont before attending the University of New England College of Osteopathic Medicine (UNECOM). Dr. Moorcroft has a Family Practice and Osteopathic Manipulative Treatment board certification and is a Origins Of Health, Berlin, CT. Founder, Chief Medical Officer, Physician and has treated thousands of patients with complex, chronic medical mysteries over the past 12 years. Started in medicine in 1995 – learning, then teaching wilderness medicine, working on the ambulance and then in the emergency room. Dr. Tom not only has experience as a physician, but as a member of the nursing staff, caring for critically ill patients.
Emerging Therapies for Tick-borne Illnesses (1 CEU)
Tick-borne co-infections are becoming increasingly appreciated as causes of human disease and morbidity. Once thought to be relatively rare, researchers are now finding that co-infection of ticks, such as Ixodes scapularis, occurs "more frequently than expected, resulting in enhanced human exposure to multiple infections that can cause more severe symptoms and sometimes make diagnosis more difficult" [Dunn 2014]. This knowledge has helped clinicians better define the often complex presentation of patients with persistent tick-borne disease and opened new pathways for effective treatment and management of these patients. Along with this greater understanding of the frequency of tick co-infection, other researchers have also looked for more effective treatment approaches for persistent co-infections. In the past 3 years there have been research breakthroughs in the utilization of both pharmacologic and botanical anti-microbials that have led to significant improvements in patient outcomes, decreased patient suffering and decreased burden of illness to society.
Key Learnings
To develop an understanding of the frequency of tick co-infection and the increased risk of patient co-infection from tick bite, including how this impacts presentation of symptoms and laboratory testing.
To develop an understanding of log and stationary bacterial growth as well as other bacterial persister forms and how each phase requires different treatment approaches. 
To develop an understanding of the most up to date, evidence-based growing, stationary and persister co-infection treatments
Key Publication
Lee SH, Vigliotti JS, Vigliotti VS, Jones W, Moorcroft TA, Lantsman K. DNA sequencing diagnosis of off-season spirochetemia with low bacterial density in Borrelia burgdorferi and Borrelia miyamotoi infections. 
Int J Mol Sci. 2014;15(7):11364–11386. Published 2014 Jun 25. doi:10.3390/ijms150711364