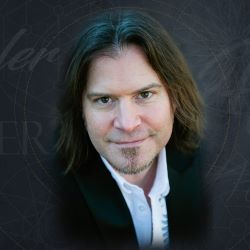 Meet The Speaker
Jack of many trades, master of some...
Born in Lawrence, Kansas in the last third of the 20th century, Gregg Kirk has lived equal portions of his life in the U.S. Midwest (Kansas & Iowa) and the U.S. East Coast (Mid-Atlantic and New England regions). During this time he has assumed the roles of student, teacher, writer, musician, health advocate, energy healer and public speaker.
In 1989 he co-founded Big Shout Magazine, a monthly entertainment tabloid with a circulation of 40,000 issues distributed in the Delaware Valley. While there he served as Publisher, Executive Editor, Head Photographer, and Lead Graphic Designer. He sold that publication in 1996.
That same year, Kirk and his band Shovelhead were briefly signed to a speculative record deal with A&M Records but no official musical release ever transpired. The next year, he was trained in a form of energy healing known as Usui Reiki and he began healing friends, family members and eventually clients for the next two decades.
In 1999, Kirk moved to New England and not long after, he began noticing strange symptoms. In 2005 was diagnosed with Lyme disease. He spent the next decade trying a combination of Western medicine and long-term antibiotics but to little avail.
In March of 2011, he visited John of God's Casa de Dom Inácio de Loyola in Abadiânia, Brazil where he experienced a miracle healing and a spiritual awakening that inspired him to help others with the illness.
After founding the Ticked Off Music Fest benefit concert series in 2012, he also founded Ticked Off Foundation, Inc. a 501(c)3 nonprofit organization that has been raising funds and support for Lyme patients in crises since 2015. Two years later, he opened the Lyme Recovery Clinic & Detox Center to help those suffering from Lyme disease and other chronic illnesses heal through all-natural, herbal supplements, intensive detox measures, and energy healing & counseling practices.
In April of 2018, he published a book chronicling these events as well as his adventures in spiritual healing and supernatural experiences called "The Gratitude Curve." He has been doing book signings and speaking appearances ever since.
In May of 2020, Kirk began co-hosting an internet broadcasting series called "Waking Up Spiritually" with certified past-life regression healer Wendy Rose Williams. The broadcast is especially for curious souls looking to make sense of their own, personal spiritual awakening symptoms, paranormal experiences and glimpses beyond the veil. It began as a bi-monthly series but is now broadcast monthly.
"Chronic disease was a forest fire that burned my life to the ground. Once I stopped fighting the fire and let it burn away the things I had once thought valuable, I began to learn from it and accept where I was. The empty spaces gave me room for new growth and my life moved in a different direction."
Gregg Kirk | "The Gratitude Curve"