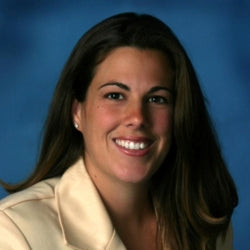 Meet The Speaker
Teresa Holler is a Family Practice Physician Assistant, Former Assistant Professor of Medicine at Jefferson College of Health Sciences, and former Founder and President of CME Opportunities, a CME provider for specialty PA's and NP's.

She graduated Summa Cum Laude from Touro College in Physician Assistant studies, and Summa Cum Laude from Alderson Broaddus College with a Master's in Rural Primary Care Medicine. She has also completed Doctoral Coursework in Medical Writing and Environmental Health.

Teresa successfully lobbied the New York State Senate for the Advancement of Physician Assistant Prescriptive Privileges while serving as the Student Representative to the New York State Society of Physician Assistants.

She is the author of CARDIOLOGY ESSENTIALS, HOLLER FOR YOUR HEALTH, and ON MEDICINE AND MIRACLES.

Teresa has been a speaker for both professional and consumer audiences including the American Academy of Physician Assistants, North Carolina Integrative Medicine Society, Medical Academy for Pediatric Special Needs, LymeBytes, and the Virginia Academy of Physician Assistants.

She has been featured on NPR, FOX TV, Good Morning Arizona, The Dr Jill Show, Advance for Physician Assistants, and more.

Teresa's passion for helping patients with the most complex chronic health problems coupled with her talent for distilling complicated medicine into simple practical steps will help you incorporate safe, novel, and effective solutions for your patients immediately after listening.
Herbal Solutions for PANS (lunch and learn)
Teresa will discuss a simple, effective approach to utilizing herbals in the management of PANS. This presentation is designed to be a stand-alone tool for practitioners to confidently initiate effective treatment for Mold and Mycotoxin illness in patients with PANS/PANDAS and/or Tick-borne disease. Case studies will be utilized to present the data in an easy-to-digest manner, and participants will leave the presentation with the knowledge of a simple, safe, and effective treatment option that they can implement immediately in their practice.
Key Learnings
Recent studies confirming a link between PANS and Lyme borreliosis
The pleomorphic nature of Lyme borrelia and the impact of both prescription and herbal antimicrobials on persister forms of Lyme borrelia
Clinical studies comparing the antibiotic doxycycline to herbal products
How to integrate nutraceuticals to manage inflammation and immune modulation in PANS
Integrative tools for managing Herxheimer reactions and symptom abatement in PANS flares
The toxicity associated with certain mycotoxins (i.e mycophenolic acid as an immunosuppressant)
How to Manage Mast Cell Activation, which is often triggered by Mold and Mycotoxin illnesses -and how to use prescription and/or natural anti-inflammatories, binders, antifungals and other antimicrobials, and other treatments in the management of the patient with PANS/PANDAS with concurrent mold and mycotoxin illness